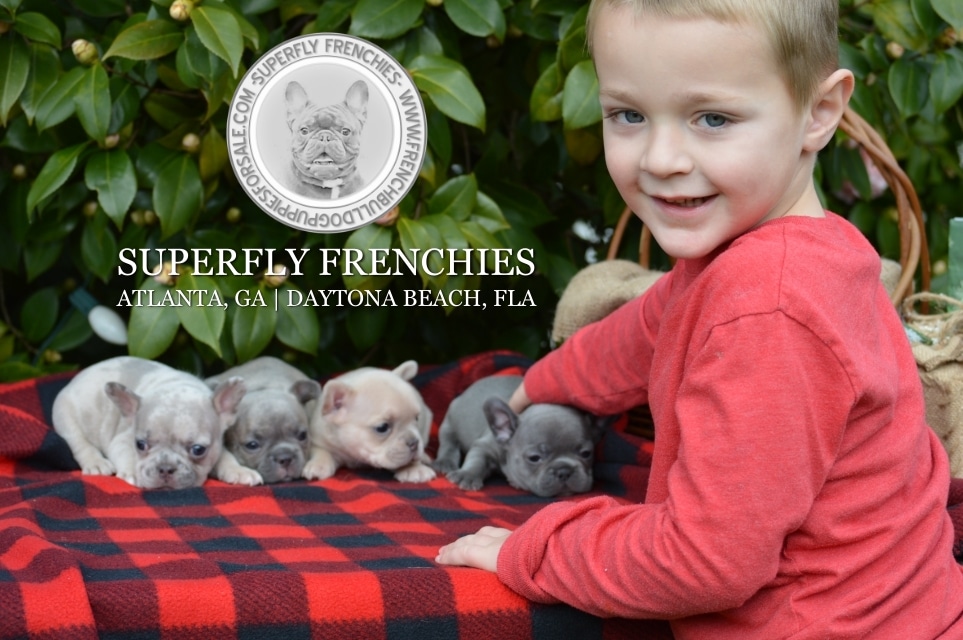 Superfly Frenchies offers French Bulldog puppies for sale that you can undoubtedly be proud of.
Whether you're purchasing the perfect family pet, a business mascot, a future animal movie star, or the perfect specimen for your French Bulldog breeding program, finding the right French Bulldog puppies for sale the first time around is imperative.
We've heard stories over and over again from our customers about purchasing and hoping for a certain type of French Bulldog, only to receive a puppy that doesn't eventually mature into a pet with the look and personality that the breed has come to be so well known for. 
Often times, there's a reason for that.  Let our experience and expertise assist with you getting the right French Bulldog puppy, right out of the gate.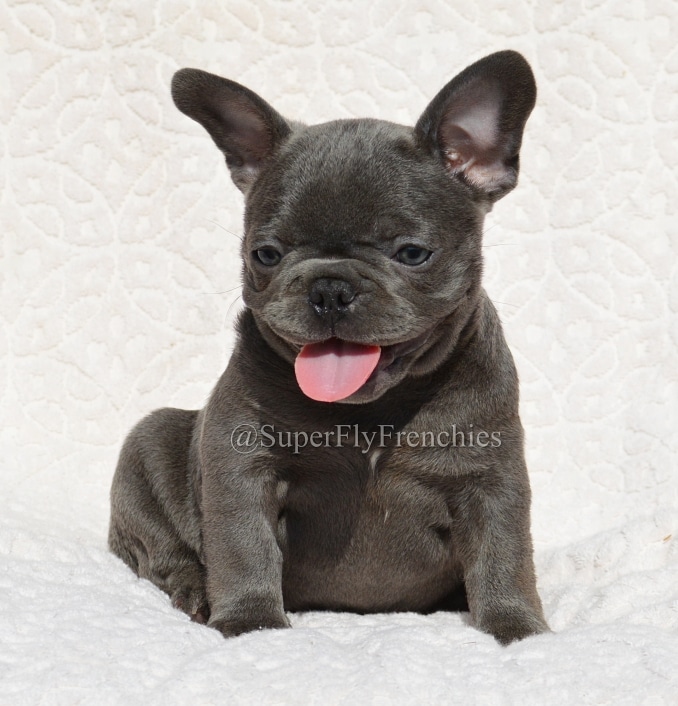 Lifetime Breeder Support
We make sure you're never left alone when life throws bumps in the road as a new puppy parent.  The good news is that it's highly unlikely that we haven't seen the situation you're going through before.  We pride ourselves in being there for you with honest opinions when you need answers the most.
Breeding Experience
We are a French Bulldog Breeder providing over 20 years of combined breeding experience that shapes our pairing combinations and top show results.  The accolades that we receive today wouldn't be possible without the combined understanding gained through our past decisions, results and adaptations.
Passion For Frenchies
French Bulldogs have changed our lives and we believe that they can do the same for you!  These puppies are the perfect size to share all of your life experiences with and they have the most endearing personalities imaginable.  Frenchies truly are the best friend a person could ask for!
French Bulldog Puppies For Sale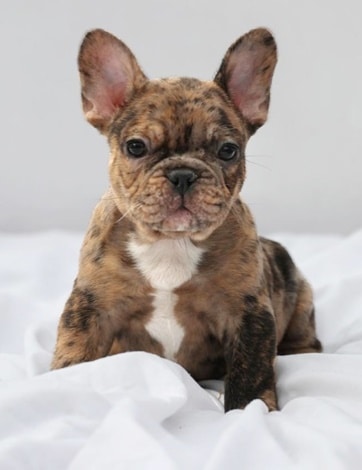 CHOCOLATEMERLE MALE CARRY CREAM
4500 AKC PET REGISTRATION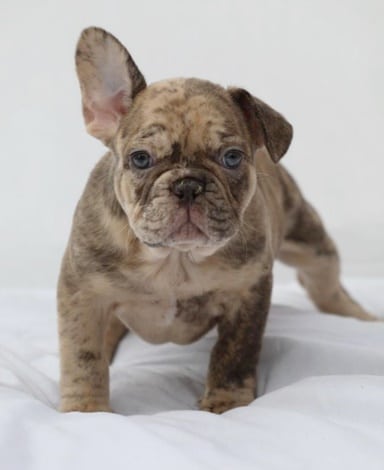 CHOCOLATE MERLE CARRY CREAM MALE
4500 AKC Pet Registration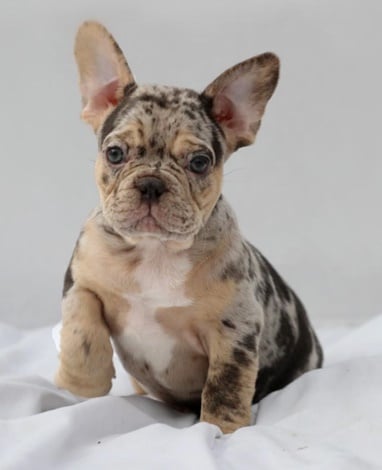 CHOCOLATE AND TAN CARRY CREAM MALE
4500 AKC Pet Registration
What can you expect when you purchase French Bulldog puppies for sale from Superfly Frenchies?
First and foremost, we strive to produce French Bulldog puppies for sale that are healthy and happy and ready to take on the world.  Your puppy will have already received multiple dewormings as well as their first and second booster vaccinations when you meet them for the first time. 
We also take all pups to the Veterinarian for a full service health check and certification before pick up or delivery.  Just as important is the puppy's mental health when they go to their new homes.  We begin imprinting our pups on the day they are born, and socialize them with our children and our other dogs and outside cats all the way up until you come to pick them up. 
This system has proven to produce confident puppies that are ready to go out into the world and become wonderful family members for their new owners, as well as productive members of canine and human society at large.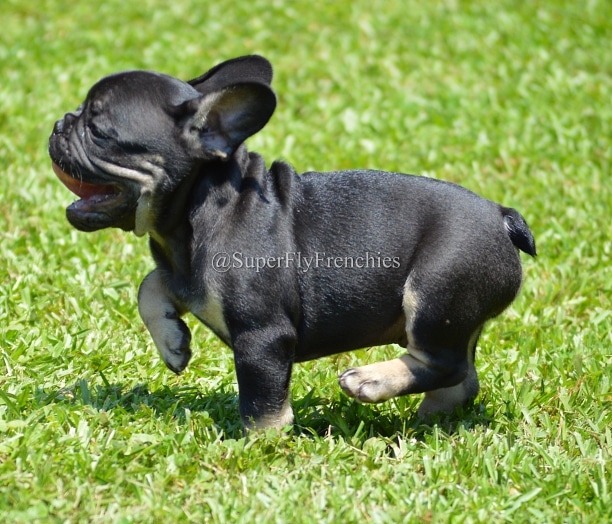 Happy And Well Socialized Puppies
Your puppy will have been imprinted and socialized from day one of their lives with our children and other animals.
Healthy Puppies Backed By A Health Guarantee
All of our Frenchie puppies for sale come to you up to date on shots with a health exam certificate from our Veterinarian and a Health Guarantee.
Best Looking French Bulldog Puppies For Sale The World Has To Offer
You'll have a beautiful Frenchie that steals every eye at every venue!  Show stopping good looks derived from pedigree's full of World Champion French Bulldogs.
Are you looking for the right French Bulldog puppies for sale to take your French Bulldog breeding program to the next level? We can help with that.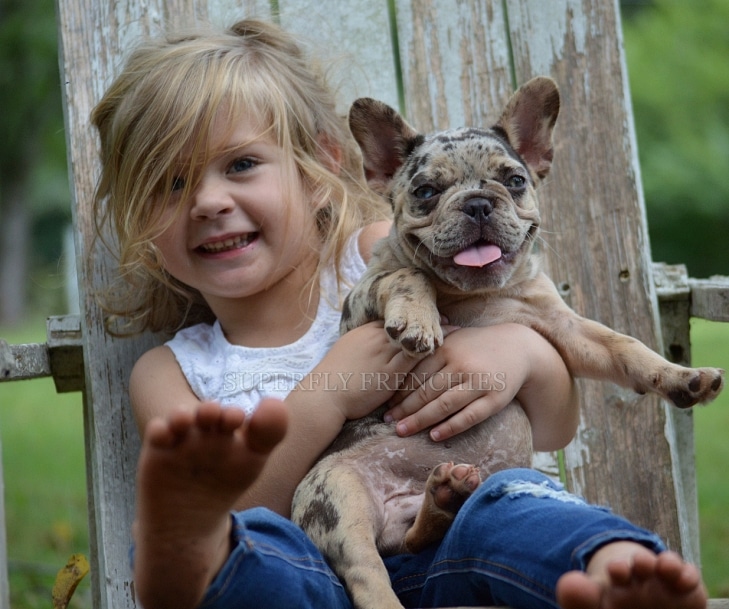 World's Top French Bulldog Bloodlines
We focus on only using the top French Bulldog studs the world has to offer and pass that marketability and strong foundation on to you for your kennel's future breedings.
Rare and Exotic Colors
Over the years we have developed strong female matriarch bloodlines that carry the cutting edge in DNA color dilute traits.  We make sure that your first litter will pass that on to your kennel's offspring.
Show Conformation
Form leads to function, and we are obsessed with producing compact Frenchies with super head type, short backs, and floating movement that helps us and our customers win the big shows.

Get In Touch With Us
Feel free to call, text, or drop us an email with any questions you have.
Call Or Text Us
Daytona, Florida 386-866-0617
Atlanta, Georgia  678-333-3343